About essCert
​​​​​​essCert provides Chambers of Commerce, Authorizing Bodies, Exporters and Freight Forwarders with a secure, online tool for application and issuance of electronic governmental and quasi-governmental trade documents such as Preferential and Non-Preferential electronic Certificates of Origin (eCOs), EUR.1, ATR.1, EU / EC Certificates of Origin, Arab Certificates, USP Form A and many more, along with relevant supporting documents such as Commercial Invoices.
Today, essCert is the world's largest eCO network, including 400+ Chambers of Commerce and 55,000+ Exporters & Freight Forwarders, issuing eCOs and other trade documents out of 21 export countries across the globe.
essCert combines the best of ICE Digital Trade's (formerly essDOCS') electronic Certificate of Origin solutions – TradeCert (est. 2005, since re-branded to essCert) & eCertify (est. 2008) – with next-generation technologies to offer the world's most powerful eCertification solution for global trade.
---
How it Works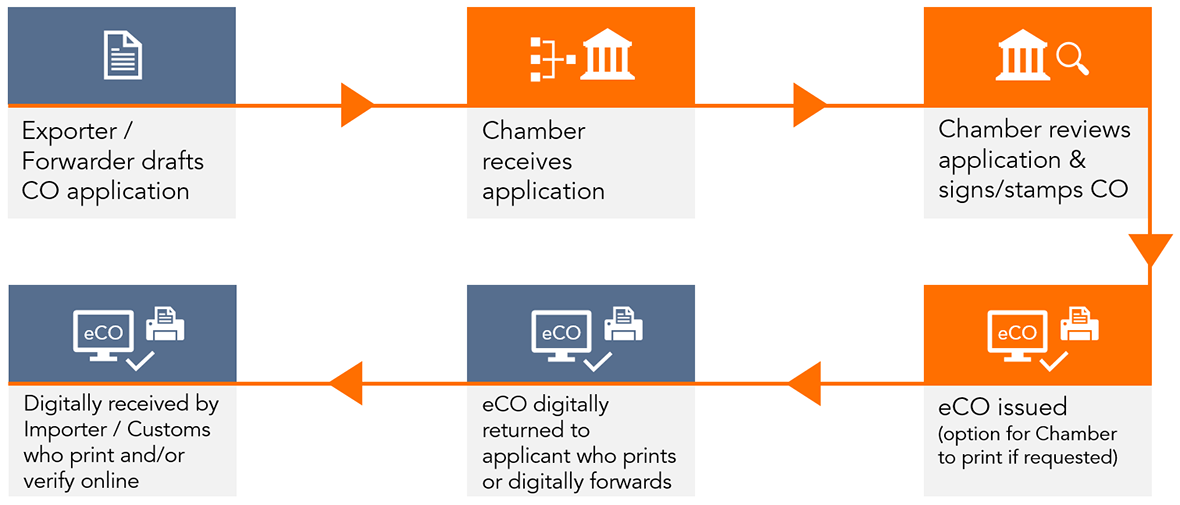 ---
Key Features 
For Exporters & Forwarders
Interface with corporate systems
Extract data from PDF invoice, creating applications automatically
Forwarder module, supporting unlimited no. of exporters through multiple forwarder stations
Upload pre-formatted Certificate of Origin PDF templates created by other systems (even Microsoft Word or Excel templates)
Supports preferential and non-preferential COs
For Chambers of Commerce
Chamber-specific branding
Interface with Chamber accounting systems
Interface with Chamber CRM system
Chamber Hub, supporting multiple Chamber offices or agent Chambers
---
Benefits
For Exporters & Forwarders
Significantly reduce document certification time
Eliminate courier/mail costs
Significantly reduce data re-entry
Significantly reduce submission errors and incorrect declarations
Significantly reduce risk of liability & fraud
Receive real-time notifications regarding certificate acceptance or rejection
Industry standard, designed to work for all types of electronic submissions
For Chambers of Commerce
Eliminate up to 95% of back-office Certificate administration time, increasing admin efficiencies and reducing admin costs
Significantly reduce risk of liability & fraud
Time/resource savings by eliminating maintenance & upkeep of custom-built/legacy CO platforms
Increase visibility and auditability via online reporting tool 
Multi-lingual solution, supporting implementation in any language 
Add value to Chamber membership and attract new members
---
Next-Generation eCO Technology
Fully dynamic and upgraded user experience providing improved optimization across mobile, tablet and laptop
Open Platform allowing Chambers will to offer eCOs through multiple eCO providers and connect to a range of Chamber CRMs
Accounting module to handle all customer invoicing 
Processing / Agent chamber capability enabling smaller Chambers the option to outsource eCO processing to larger Chambers while maintaining their own branding
Invoice-to-application tool, using OCR and machine learning to auto-generate the eCO application
Multi-payment options via credit card for Exporters/Forwarders; or invoicing to handle customers on account
Reporting/BI Tool for Chambers & Chamber clients, enhancing visibility and auditability
Verification Tool for third-parties plus connectivity to ICC Verification Site for Chambers who are a member of the ICC eCO Verification Chain
Secure AWS-hosted platform, with upcoming two-factor authentication option
Upcoming – essCert app-store for Exporters & Forwarders, providing add-on solutions for optimizing multi-modal export processes – including powerful shipping document preparation & management tools, Smart AIS vessel/cargo tracking, truck document management & freight tracking, Letter of Credit
Upcoming – Blockchain / Distributed Ledger Technology (DLT) option, enabling Chambers to connect eCO data to DLT platforms and connectivity to IoT devices to improve origin verification
---
Countries 
Our eCOs are currently used by Chambers of Commerce in the following 21 export countries. Click on the countries below for a detailed list of the chambers we work with in each country.
---
essCert Background
​​​​​​essCert (formerly TradeCert) was established in 2005. In 2017, essCert was acquired by essDOCS, the leading provider of paperless global trade management solutions.
essDOCS is now ICE Digital Trade (IDT), becoming part of ICE in March 2022. You may know ICE already through its energy futures markets covering Brent, Gasoil, TTF, JKM LNG and EUA futures, and its soft commodity futures across coffee, sugar and cocoa. It is a Fortune 500 company that designs, builds and operates digital networks to connect people to opportunity. ICE provides financial technology and data services across major asset classes that offer its customers access to mission-critical workflow tools that increase transparency and operational efficiencies, two areas which ICE Digital Trade is similarly focused on.
ICE operates exchanges, including the well-known New York Stock Exchange, and clearing houses that help people invest, raise capital and manage risk across multiple asset classes. ICE's fixed income data services and execution capabilities provide information, analytics and platforms to help customers capitalize on opportunities and operate more efficiently. While ICE Mortgage Technology is transforming and digitizing the U.S. residential mortgage process, which, like trade finance, has traditionally been a paper-based industry.
---