Highlights from the WEF Annual Meeting Panel 'RCEP: The biggest trade deal in the world'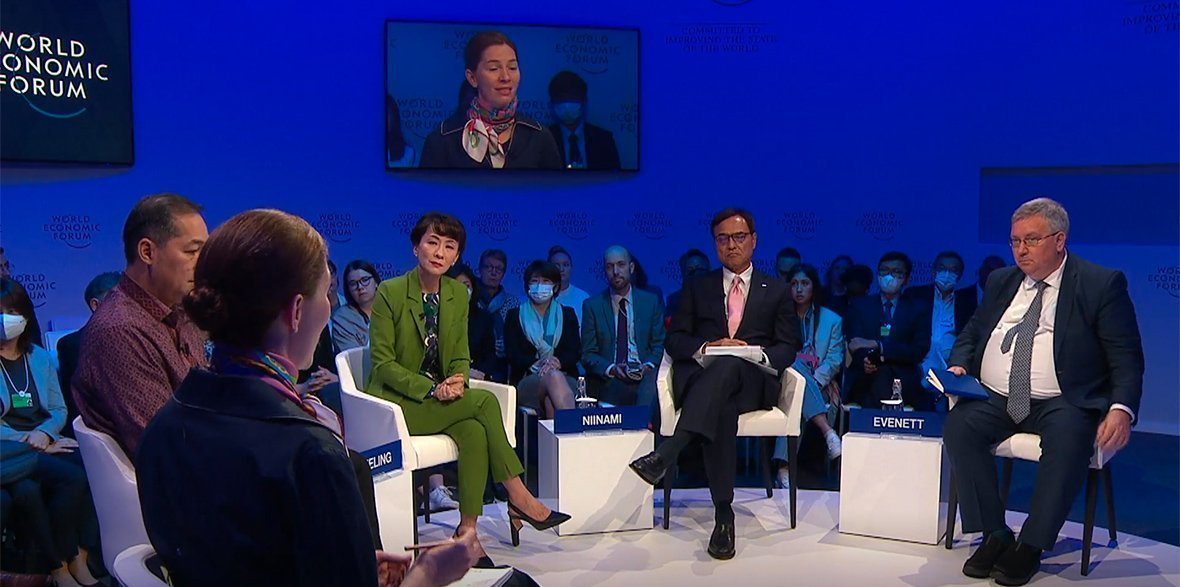 In January 2022, the Regional Comprehensive Economic Partnership (RCEP) came into force, making it the world's largest trading bloc – covering nearly a third of the global economy. The trade agreement includes 15 countries: Australia, Brunei, China, Cambodia, Indonesia, Korea, Japan, Laos, Malaysia, Myanmar, New Zealand, Philippines, Singapore, Thailand, Vietnam (India pulled out of negotiations in November 2019).
Given the sheer breadth and scope of the RCEP agreement in terms of country (and economic) coverage, it comes as no surprise that at the recent 2022 World Economic Forum (WEF) Annual Meeting in Davos, the RCEP was extensively discussed during a televised panel session called 'The biggest trade deal in the world.'
Panel Highlights
The key topics discussed during the panel discussion were structured around 3 key questions:
Has RCEP delivered on its purpose?
According to Muhamed Lutfi, Minister of Trade, Ministry of Trade of Indonesia, the RCEP deal is extremely promising as it covers 30% of global GDP, spread across the 10 ASEAN countries plus 5 dialog partners who are members of the bloc. Covid has caused significant delays in the roll-out of the agreement with the commencement of further ratifications being pushed to the 2nd half of 2022, but all in all, according to Mr. Lutfi, RCEP has become even more significant in the past months – given recent global developments such as new supply chain disruptions and military aggressions in Europe. 
Speaking on behalf of the private sector, Tak Niinami, CEO, Suntory Holdings Limited, factored in the role of China in this trade deal, stressing that the success of RCEP is dependent on China's commitment. Mr. Niinami added that China's zero Covid policy has once more disrupted global supply chains, causing huge bottlenecks in global trade. With China being a key RCEP member, it is unknown when this trade agreement could ramp up, although he acknowledged a big opportunity for the economic giant to drive this initiative and play a key role as a trusted partner. RCEP could also be a golden opportunity for smaller economies in the region to attract foreign investment. For example, Indonesia recently recorded a trade surplus of US$1.1 billion with China, as cited separately during the panel by Mr. Lufti, Indonesia's Minster of Trade.
Simon Evenett, Founder, St. Gallen Endowment for Prosperity through Trade, mentioned that before RCEP was put in place, countries in the region were placing non-tariff barriers covering about 40% of the trade between them. In response to the question 'is RCEP working?', he added that as the private sector's expectations adjust, RCEP will start expanding and generating benefits over time. Mr. Evenett went on to mention that according to World Bank estimates, the RCEP deal will eventually increase real wages in these countries and promote labour inclusion for women.
Aba Schubert, Co-Founder and CEO, Dorae, stressed that it is hard to distinguish between what can be attributed to Covid versus the RCEP agreement and other policy measures. She added: ''Coming out of such a big thing like RCEP, first we see change. Only after a long time do we see improvements as the change has to trickle down. Eventually a lot of supply chains will have dramatic changes at their endpoint and businesses will have to adapt and get to know new consumers in different markets. They'll have to change their planning, capacity management but gradually we will see simplified supply chains and transport/logistics that create value.''
Can RCEP tackle inflation and help push prices down?
According to Mr. Evenett, trade deals are not the cure to these problems, but RCEP can make a positive contribution by lowering prices since it can also lower the cost of trade. Citing the IMF, he mentioned that the core reason for inflationary price jumps is that there is too much demand chasing too few goods. The RCEP deal could encourage exports, and as such, having more goods coming in sourced from abroad could relieve the pressure on domestic markets. 
On the other hand, Ms. Schubert noted that at the core of inflationary pressure which we cannot overlook is the role of China and the global reaction to transportation dislocation experienced in the past years. She added that the typical reaction of businesses when caught out at any point in their long supply chains is to stockpile, with detrimental effects to the working capital at every link in a supply chain that lowers margins. According to Ms. Shubert, this is how we end up in a vicious circle of increasing prices, adding that the RCEP can instead provide stable, shorter supply chains that protect the region from external shocks in the rest of the world. 
Can we have trade deals that benefit all parties?
Mr. Lutfi stressed that without multilateral trading systems like RCEP, developing countries cannot guarantee their participation in international trade on equal terms with developed countries. He added that RCEP should act as a framework to build trust among all partners and avoid protectionism in the region.
Mr. Niinami, on his part, encouraged RCEP members to create a monitoring system to track trade inequalities, so that developing countries can benefit from access to new markets, technology and investment in an inclusive, prosperous and fair-trade ecosystem.
Ms. Schubert highlighted the importance of digital technology in driving innovation and creating value for all stakeholders in global trade. She added that, until international standards are set around interoperability for both digital data formats and information that needs to travel across borders, digital solutions cannot be deployed at scale and only a few countries can reap the benefits of these solutions.
Conclusion
RCEP has the potential to significantly reduce trade barriers such as tariffs, and spur economic growth for participating countries. According to a recent World Bank Policy Paper, with common RCEP rules of origin and reduced tariffs 'total exports from RCEP members could grow by 5.2 percent on average', while also making 'exporters less dependent on imported goods but more on regional supply chains' within the RCEP region. Furthermore, these common rules of origin should enable members to 'benefit from less expensive imported goods, leading to further integration into regional value chains.'
Here at essCert, we provide solutions for digitally certifying both preferential and non-preferential electronic certificates of origin (eCOs). We recently added a preferential RCEP Certificate of Origin to our expanding list of certificates covered using essCert, allowing trade stakeholders within the RCEP region to take advantage of product-specific preferential tariff treatment.
Share this article: