How Member Feedback and Data Can Help Drive Every Decision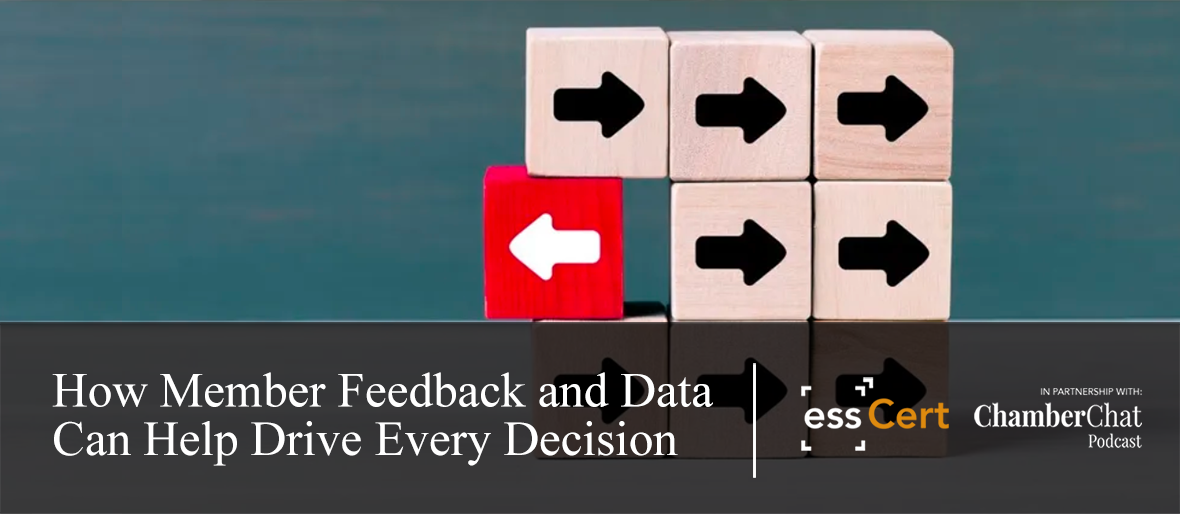 ---
By Brandon Burton, in partnership with Chamber Chat Podcast
---
Estimated reading time: 5 minutes
Directional Data
When it comes to driving the course for your chamber, you need to have clear direction. Can you imagine going for a drive without knowing your final destination or how to get there? You would end up wasting a lot of time and resources going in the wrong direction while you try to guess where you should be headed. I heard a quote a while back that said "you can work at 100 mph but if you are not clear on your destination, you will end up 100 miles away from your goal." This is true when making business decisions or operating your chamber. You need to have a clear vision of where your organization should be headed.
 
Proof of Concept
About a year after starting Chamber Chat Podcast, I started having some chambers reach out to me about how to get started with their own podcast. At first I was answering their questions one by one. Then I thought it would be a good idea to launch an online course to take chambers through the steps to get started. But, before I invested a lot of time into creating a course, I created a simple downloadable Chamber Podcasting Guide PDF that I gave away for free to interested chambers. This allowed me to test the market to see if there were more chambers who wanted to start a podcast. After I had about 150 downloads of this Chamber Podcasting Guide, then I proceeded to create the course and guess who I marketed it to first? That's right, those people who had already expressed an interest in podcasting. This was almost a guarantee that I would get sales for the course.
When making decisions at your chamber, you should be collecting data along the way. Collecting and evaluating data will allow you to create more relevant content, programming, and opportunities for involvement by catering to what is important to your member businesses. Having a clear vision is important, but it also must align with your mission. If you are collecting interest for programs that are outside of the scope of your mission, you might be better served by partnering with another organization or handing the program off all together.
 
Ways to collect data
Let's brainstorm on some ways to gather data and member feedback to help you make better decisions:
Understand what makes popular social media posts trend
What are your most attended programs?  What is the content about?
Ask new members why they are joining the chamber and what their expectations are
Provide surveys after each event to collect feedback
Ask your members what they value most about their membership with your chamber
Record common questions that members ask your chamber
Post polls on social media for future programming
Survey people who attend community events
A note about surveys…it is important to be clear about the desired purpose for the event or program you are providing the survey for. If the person being surveyed doesn't understand what the intent for a program or event is, then their responses can lead you in the wrong direction. You should clearly state the reason you put on your community festival for example, the impact it makes throughout the community, and then ask your questions. This gives more context rather than having a person complaining about the festival because it was too hot that day.
I recently came across a chamber who surveyed their members about whether or not they should continue producing a community guide/directory or a map. The feedback came back that the members did not want the chamber to produce either publication any more. This chamber failed to mention the added value to each member of having their name listed in the directory and distributed throughout their community. They also did not inform their members about the non-dues revenue the chamber receives for their budget from these publications and how having a tangible publication can help with branding your community to newcomers and visitors. The expectations and reasoning was not properly laid out and for that reason, the members voted the way they did. With more accurate information, the vote likely would have been much different.
 
Interview with Aaron Nelson – Data Driven Decisions
In June of 2021, I had Aaron Nelson from the Greater Chapel Hill-Carrboro Chamber on the podcast to discuss how he approaches data driven decision making. He talked about how they go about collecting data after every event. They gather data about the venue, the speakers, the food, just about every aspect of each event that you can think of. This creates a very clear path going forward for their future events with the understanding that each event is a continual iteration.
What to do with Data?
One of the tricky aspects about collecting data and gathering member feedback is what to do with it. If you have a robust membership management software platform, then this should be your hub for storing all of this data and feedback. Many chambers turn their membership platform into a non-dues revenue generator within a few months. As you collect data and input it into your platform, you are also able to produce monthly activity reports for each member so they can see the ROI of their membership. This is providing data to your members to help them make better decisions!
The key is to continually collect and record the data and feedback from your various sources so you can learn what is important to your members. Once you know what is important to them, you will have better engagement with your programming because you are providing more targeted value to your members.
Share this article: