UN releases Trade Facilitation & Paperless Trade Implementation Survey

ESCAP, The regional development arm of the United Nations for Asia and the Pacific, has released its Regional Commissions Trade Facilitation and Paperless Trade Implementation Survey for 2015, providing a major assessment of over 30 trade facilitation measures in the Asia Pacific Region.
The survey covers the implementation of several key measures included in the WTO Trade Facilitation Agreement (TFA), in addition to "measures aimed at enabling paperless trade, or the conduct of trade using electronic rather than paper-based data and documentation."
Using data pooled from 44 developed and developing economies within APAC, the report reveals crucial insights on paperless trade uptake, suggesting that "significant room remains for progress" in several Asia Pacific economies.
According to the survey, "All countries are engaged in implementation of various measures aimed at enhancing the transparency of trade procedures, as well as in reducing the formalities associated with them. While implementation levels vary greatly across countries for all categories of trade facilitation measures […] the regional average level of implementation of 'paperless trade' measures stands close to 50%."
The UN assessment confirms that most countries in the region have been actively engaged in implementing measures to improve transparency, enhance inter-agency coordination and cooperation, and streamline fees and formalities associated with trade, adding that "while Customs in essentially all countries have been actively developing paperless systems to speed up customs clearance while also improving control, nearly 40% of the economies are now also engaged in implementation of more."
'It is in the interest of countries from all groups to work together and develop the legal and technical protocols needed for the seamless exchange of regulatory and commercial data and documents along the international supply chain'
Interestingly, the report provides a specific focus on "cross border paperless trade measures", revealing that "about 68% of the countries surveyed in the Asia-Pacific have at least partially developed the legal and regulatory frameworks needed to support electronic transactions"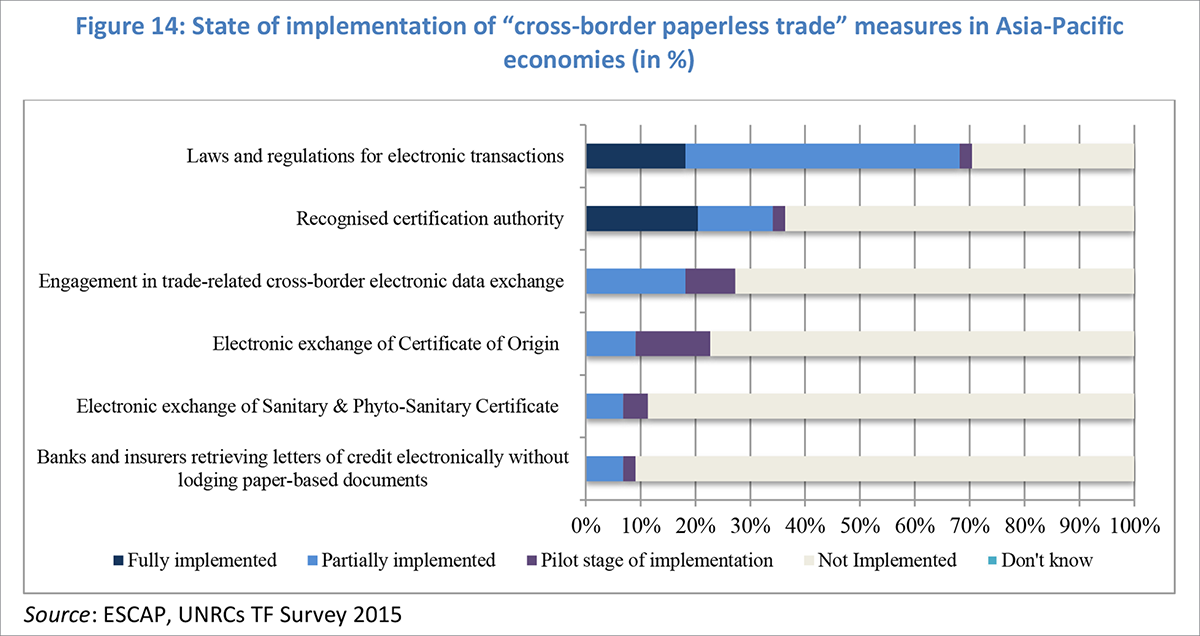 Cross-border paperless trade measures primarily relate to the "the implementation of systems enabling the actual exchange of trade-related data and documents across borders to remove the need for sending paper documents," in addition to the legislative "building blocks towards enabling the exchange and recognition of trade-related data". Separated into six parts, the measures include:
Laws and regulations for electronic transactions
Recognized certification authority
Engagement in trade-related cross-border electronic data exchange
Electronic exchange of Certificate of Origin
Electronic exchange of Sanitary & Phyto-Sanitary Certificate
Banks and insurers retrieving letters of credit electronically without lodging paper-based documents
Despite recent progress and strides made in many areas, the report does outline that "implementation of cross-border (bilateral, sub-regional or regional) paperless trade systems remains mostly at the pilot stage," going on to add that this does not come as a surprise since "many less advanced countries in the region are at an early stage" of developing their systems, and some of the more advanced countries still need to ensure that their paperless systems are interoperable with each other.
'Full implementation of cross-border paperless trade is expected to generate USD 257 billion of additional export potential annually for the Asia-Pacific region alone'
In its conclusion, the UN report crucially adds that "it is in the interest of countries from all groups to work together and develop the legal and technical protocols needed for the seamless exchange of regulatory and commercial data and documents along the international supply chain."
This comes as no surprise if we consider an earlier 2014 UN ESCAP report, The Benefits of Cross-Border Paperless Trade, reveals that "full implementation of cross-border paperless trade is expected to generate USD 257 billion of additional export potential annually for the Asia-Pacific region alone."
Read the complete Trade Facilitation and Paperless Trade Implementation Survey 2015
Read the complete Benefits of Cross-Border Paperless Trade Report 2014
 
Share this article: