What Makes a Chamber Board Successful?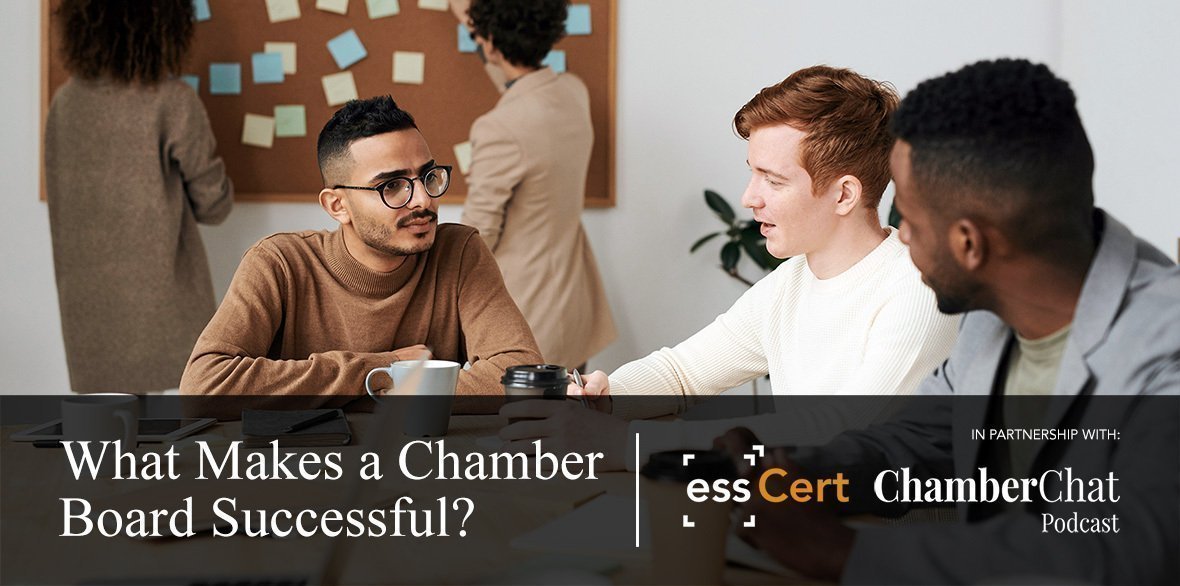 ---
By Brandon Burton, in partnership with Chamber Chat Podcast
---
Estimated reading time: 8 minutes
Have you had any formal training on how to develop a strong, diverse, effective chamber board? My guess is that most chamber executives who are reading this blog post have not been trained on board development. Many find themselves in the chamber industry by happy accident. What makes a chamber board effective anyway? While I am by no means an expert on board development or management, I will share what I have learned from experienced chamber professionals and non-profit board experts.
When it occurred to me how many chamber leaders find their career in chamber work by accident, it prompted me to do a survey to ask chamber leaders about their experience working with boards before starting with the chamber. The results were interesting. Only 27% of chamber leaders surveyed had worked with a board previous to entering the chamber world. 37% had no experience working with a board at all while another 37% had served on a nonprofit board. I think we could all agree how the perspective changes from serving on a board to being on the other side as the chamber executive.
 

To start, it may be helpful to understand what an effective board is. I would argue that an effective board is one that will engage in meaningful discussion which leads to action. These outcomes of these actions should support the mission of your organization and further build your community.
 
Chamber Board Selection
As I recently attended the MAKO (Missouri, Arkansas, Kansas, Oklahoma) Chamber Conference, Dave Adkission was one of the speakers. Of the many topics that he covered in his talk, he spent some time talking about the unique qualities of a Chamber leader. He shared how you are often the only person in your city or town who does what you do. You may have colleagues in neighboring towns but you are typically the only Chamber Director/President/CEO in your community. 
Dave also talked about how as a Chamber Executive you have a new boss each year, of course referencing your board chair. With this understanding, it is not very common in the workplace to have a say about who your next boss will be. However, in the chamber world, you can be intentional about building your board of directors with people who share a similar vision for your community.
When it comes to board selection, you may be tempted to look to those business leaders who can be a strong source of revenue. You probably want people on your board who are well connected.  Oftentimes the people who make up a chamber board are some of the most influential business people in your community. This can lend more credibility and influence to your organization as a result.
On the flip side, by having your board filled with high level business leaders, there is a good chance that their time and resources will be stretched thin. They are probably serving on other boards in your community. They are most likely being asked for money from other organizations. They will likely notice that they are being asked to participate on various boards because they are well connected and have access to money which can change their perception of your organization.
You want to be very intentional about recruiting for board service as you build relationships with other leaders in your community. Be mindful of what mindsets and skillsets are missing or underrepresented on your current board. Have discussions with some of these leaders who you think would be a good addition to your board to plant the seed or idea in their mind about the value or perspective they can provide.
 
Developing Board Diversity
In the past, at least in the United States, most chamber boards were composed of older, white males. As demographics change, as social justice and awareness are more front of mind, it is important that chamber boards reflect the makeup of the community which they serve.
With chambers having a sharper focus on diversity, equity, and inclusion, we are starting to see more of this shift in board seats. As there are more women owned businesses, having the voice and perspective of women on your board is important. As you develop your chamber board, notice if your community tends to have a younger demographic, you may want to recruit board members who represent your younger business owners. Your community may have a larger makeup of hispanic, African-American, Asian, or Pacific Islanders. This should be reflected on your board.
As a chamber leader, you are expected to know your community and to have a pulse on what is important to them. Should you focus on having more veterans on your board or people from the LGBTQ+ community? Although the development of your chamber board should be very intentional, you should be careful not to recruit board members simply because the check a box. Each board member should bring specific skillsets to make your board whole.
It is important as you recruit new board members to work towards filling seats with the people who can help move your community forward and not just who has the money and influence. Ultimately your chamber should carry the influence in your community that you are looking for. You should be leading the way in showing what is important to building a stronger community and why each segment of your population is vital to this vision.
A while back, I had Matt Morrow on the Chamber Chat Podcast. Matt is the President and CEO of the Springfield Area Chamber in Missouri. Matt talked about the lessons he learned from a book titled "The Wisdom of Crowds". The main takeaway message was that more often than not, a diverse crowd of people can, together, come up with the most correct answer to problems than any one person or any one demographic can on their own. This is because the diversity brings different perspectives which help point to the most correct answers.
 
Setting Clear Expectations
Communication and expectations are key to a functional board. It may be tempting to complain about an underperforming board member.  You might get frustrated when the ball gets dropped on certain action items that come out of a board meeting. Are certain members always late to your board meetings or not engaged? These board members may not clearly understand what is expected of them and how important their role really is.
From their perspective, they may be complaining to themselves, a spouse, another board member or a co-worker about how unorganized and unproductive the chamber board meetings are. They may not have clearly expressed what their expectations were from you as a chamber leader.
Either way, if the dysfunction is coming from the chamber side or from the board side, this will quickly result in a disengaged board. Have open and honest communication about expectations. Be intentional with the onboarding process for new board members so they clearly understand the importance of their role.  While in your board meetings, try to spend the bulk of your time in discussion about things that really matter for your community. You will likely have some of the most influential leaders of your community in the same room so don't waste their time. Find out how your board members prefer their communications. Do they want detailed drafts for each meeting or a simple outline? By defining expectations up front will save you a lot of frustration later.
Along with clear expectations, always be mindful of your board member's time. These are often busy people who live by a schedule. Be as concise, yet thorough with communications and meetings to keep up the level of engagement. As soon as you notice any disengagement, have an open conversation to assess the load your board member is carrying and encourage adjustments with assignments as needed.
 
Board Unity
It is not abnormal to have very strong personalities among a group of business and community leaders.  This is not a bad thing at all. Oftentimes, these strong personalities are what land these individuals in the positions of influence where they currently reside. However, some personalities can be like oil and water as they repel each other. 
Be intentional about creating opportunities for board members to break down barriers and to get past personalities. This could be done by providing opportunities for these individuals to serve directly with each other and to learn from each other's experiences and skillset. This is often facilitated through board retreats and training.
If you can build buffer time around your board meetings to allow for your board members to socialize for a few minutes before or after board meetings, you will see more ideas generated once they are outside of the formal setting of a meeting. A good signal of board unity is when you see several board members linger after a meeting to continue discussion ideas or even just getting to know each other better.
 
Continue Your Chamber Board Development
As I stated at the beginning of this post, I am not an expert on nonprofit or chamber board development. However, I have learned a lot as I have worked with chambers over the past 15+ years and as I have been interviewing chamber leaders on Chamber Chat Podcast for over 3 years now.
One of the best people I have interviewed on the podcast about this topic is Hardy Smith, author of "Stop the Nonprofit Board Blame Game". I would encourage every chamber executive to read this book.  You will learn key insights about managing your board that you have never thought of.
I would also encourage you to continue learning from others, whether that is through conferences, regional chamber meetings, listening to podcasts, reading blogs, or by reaching out to others directly who you admire and feel like you can learn from.
Chamber service and board development is a continual iteration as our tools become more refined and as the world continues to evolve.
Share this article: