Paperless Trade Insights Q2 2017

Q2 2017 news clearly indicates that trade digitization has moved well-beyond the 'why' stage, steadily settling into 'how' territory. Corporates, Banks, Governments and Industry bodies are developing or actioning on digital initiatives like never before; e.g. the ICC's recent establishment of a Digitalization Workgroup, Singapore's roadmap for digital trade facilitation ahead of its upcoming presidency of Asean, ongoing developments with the IPPC ePhyto Hub and more. Beyond the obvious digitization benefits of streamlined/automated processes, urgency in going paperless has been further spurred by recent paper fraud cases surrounding title documents such as warehouse warrants and bills of lading. In this context, digital trade processes are viewed as the only viable alternative to mitigating major paper fraud risks. 
As with any discussion on implementing a digital strategy, supply chain participants are now also faced with a wide array of technologies from which to choose: some mature, others not, several in-between. While there is no clear 'winner' in this space, we anticipate further consolidation between these seemingly competing technologies as the industry itself distinguishes the best-of-breed in each area of expertise!
Industry News & Views

Metals Trading has a paper fraud problem: Bloomberg covers recent metals trading paper fraud cases, mentioning essDOCS as a solution provider that mitigates title document fraud risks. + READ MORE
Potential pitfalls for counter-signatories signing letters of indemnity: Banks should take note of the perils of countersigning Payment LOIs, as highlighted by this recent court case (source: Lexology). + READ MORE

Troublesome paper certificates and why the industry must embrace eCertificates: Making the case for eCertification in the maritime industry (source: Hellenic Shipping News). + READ MORE

Important Start for Development of IPPC ePhyto Hub: A key step for Paperless Trade in Agri as the IPPC electronic Phytosanitary Hub moves closer to launch (source: IPPC & United Nations FAO). + READ MORE

Going Paperless in Agri: essDOCS CCO, Ashley Skaanild, on how agribusiness companies can digitize or expand digitization of their trade/finance processes (source: essDOCS via Gaftaworld). + READ MORE

ICC Banking Commission Digitalization Workgroup: ICC Banking Commission launches Workgroup dedicated to trade finance digitization, a major step in the ongoing transformation to paperless trade (source: essDOCS). + READ MORE

TIACA committee calls for change in supply chain: The International Air Cargo Association (TIACA) calls for digitization and transparency to overcome ongoing paper burden (source: American Shipper). + READ MORE

Legal Briefing: Electronic Bills of Lading: As many of its members switch to paperless trade, UK P&I Club recently released a helpful Legal Briefing on using Electronic Bills of Lading (source: UK P&I Club). + READ MORE

High hopes for single digital platform for Asean e-commerce: Singapore government outlines its digital trade facilitation strategy ahead of assuming chairmanship of Asean in 2018 (source: The Straits Times). + READ MORE

Enabling Paperless Trade: "The support of G20 leaders is important in accelerating this transition." essDOCS CEO, Alexander Goulandris, on why G20 leaders should spur the transition to paperless trade  (source: essDOCS via ICC UK). + READ MORE

Taking the paperless approach with digital trade finance: essDOCS CCO, Ashley Skaanild, on how banks and corporates can tap into the huge opportunities arising from trade finance digitization (source: FX-MM). + READ MORE

How the financial sector is preparing for its AI-led future: As traditional banks grapple with challenges posed by fintechs, legacy constraints and operational models, some argue that AI is emerging as the 'savior' (source: GT News). + READ MORE

Global Trade in a digital age: Recent SWIFT/BCG paper on how digital trade platforms can solve inefficiencies for India, the world's 7th largest economy, unlocking the full potential of a streamlined, automated supply chain (source: SWIFT). + READ MORE

IBM building blockchain for seven major trade finance banks: The project aims to mark one of the first real-world use cases of blockchain technology in financial institutions (source: CNBC). + READ MORE

Be wary of immature blockchain solutions: "While it has the potential to revolutionize the industry, you need to cut through the noise to find solutions with real staying power." essDOCS CEO talks blockchain at TOC Europe Conference (source: Port Strategy). + READ MORE
essDOCS Company News

essDOCS acquires TridentGLOBAL: A major company milestone and key step towards expanding our DocPrep solution capabilities, as we continue to grow our global solution footprint. + READ MORE

essDOCS accelerates expansion in Greece: Announcing our Athens office relocation to spacious, state-of-the-art premises, enhancing and expanding our presence in the Greek capital. + READ MORE 

DDG APAC Workgroup Meetings: News/Video highlights from our Singapore & HK User Association meetings, attended by leading Mining Companies, Metals Traders, Agri Houses & Banks. + READ MORE 

essDOCS joins The Digital Debate at TOC Europe 2017: Excited to have been part of the 'Digital Debate' at Europe's foremost Container Supply Chain Conference in Amsterdam. + READ MORE

Paperless Trade in Agri Seminar and Networking Cruise on Lake Geneva: We recently co-hosted a unique, one-of-a kind paperless trade seminar for GAFTA members on Lake Geneva. + READ MORE 
CargoDocs News

Louis Dreyfus Company executes first ever CargoDocs fruit juice shipment: Breaking new ground by expanding digitization to the juice commodity segment. + READ MORE

Bunge executes first ever CargoDocs Agri shipment under Letter of Credit into China: Unlocking major digital potential for agri commodity flows into China. + READ MORE
Discover CargoDocs DocPrep+: Request a free online Demo & discover how CargoDocs DocPrep+ accelerates trade success in just a few simple steps. + READ MORE
essDOCS in Numbers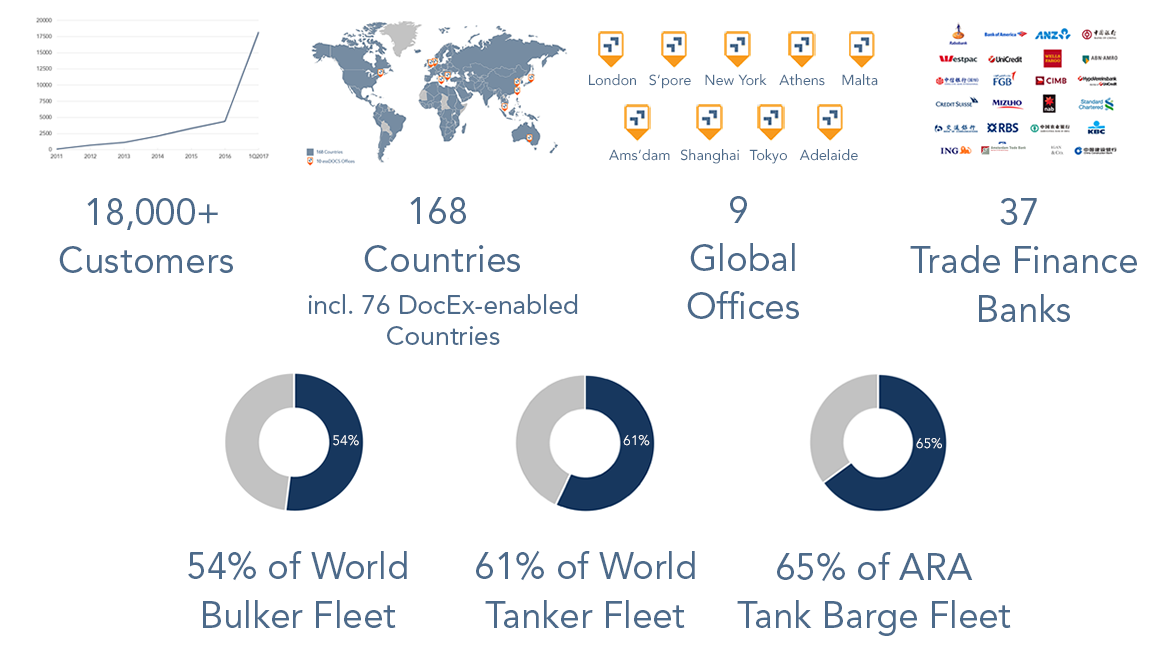 Share this article: