Paperless Trade Insights Q3 2016

Q3 news was marked by a distinct focus on trade finance digitization and how it relates to the shifting role of banks within the new paradigm of digital trade. Technologies such as Bank Payment Obligation, electronic Bills of Lading, Blockchain and the Internet of Things featured prominently in news and opinion pieces, but with a significant difference from earlier discussions. Where previously these innovations were often 'framed' as competitive technologies, we are now seeing a marked shift towards combining all these tools to further enable paperless trade – spurred on by ongoing collaboration between banks, corporates and fintech companies like essDOCS!
 
Industry News & Views

NRF Transport Survey 2016: "67% anticipate an increase in technology investment over the next 5 years." Insights from Norton Rose Fulbright's 2016 survey of the transport sector (source: NRF). + READ MORE

CBEC plans to speed up cargo clearances: India's Customs & Excise Authority (CBEC) lays out plan to eliminate physical documentation entirely (source: Hellenic Shipping News). + READ MORE
 

European banks & digital strategies - Mind the gap: Key findings on the state of digitization in European banks, and closing the 'gap' between aspiration and application (source: BankingTech). + READ MORE

The paperless ship: How far off is the truly paperless, digitized smart-ship from revolutionizing the shipping and trade operations landscape? (source: MarineLink). + READ MORE
 

Tech & the future of trade finance: BPO, Blockchain and The Internet of Things as the 3 technologies poised to revolutionize paperless trade finance (source: Global Finance Magazine). + READ MORE

Banks and the transition to digital trade finance: Alex Goulandris proves why banks have the desire & capability to digitize faster (& further) than many give them credit for (source: LinkedIn). + READ MORE

Going Paperless for Better Customer Service: Paperless, digitized process management as the key to unlocking optimal customer service  (source: Global Trade Magazine). + READ MORE
 

Over 70% of LH Cargo out of Dubai is now paperless: Great strides in e-Air Waybill adoption, with Lufthansa now reaching 70% paperless trade in all air freight ex-Dubai (source: LinkedIn). + READ MORE

Global FinTech Hubs Federation initiative launches: A promising Fintech innovation initiative, recently launched by SWIFT & Innovate Finance, feat. over 20 countries (source: GT News). + READ MORE

The Digital Revolution in Trade Finance: BCG identifies MT798, eB/Ls, BPO & Blockchain as the 4 potentially disruptive technologies in trade finance to watch (source: Boston Consulting Group). + READ MORE

China's Central Bank bans high-value paper-based commercial drafts: PBoC mandates paperless-only bill financing as a means to efficiently combat paper fraud (source: Corporate Treasurer). + READ MORE

Paperless Trade to Bring $250 Bln to "Big Eurasia": A common paperless trade system "will result in a gain of about $250 billion" in 'Big Eurasia'  according to UNESCAP (source: Sputnik News). + READ MORE
essDOCS Company News

essDOCS surpasses 4,000+ Customer Milestone: Following dynamic year-over-year customer network growth of over 50%, underscoring the industry's ongoing shift to paperless trade. + READ MORE

essDOCS wins TFR Excellence in Trade Award: Prestigious accolade awarding essDOCS 'Best Non-Bank Trade Services Provider' at the TFR Excellence in Trade Awards 2016. + READ MORE
 

Misys & essDOCS accelerate unique partnership in paperless trade: Joining forces to further eliminate the paper-based, manual processes that hamper global trade finance. + READ MORE
 

essDOCS launches Chinese website: Following the recent opening of our Shanghai office, the essDOCS China website is now live at www.essdocs.cn.
CargoDocs News

Discover CargoDocs DocPrep+: The world's most versatile, intuitive and cost-effective doc prep tool for global trade. + READ MORE

LNG Trade embraces CargoDocs: Shell Western paves the way for paperless trade in the LNG segment. + READ MORE
essDOCS in Numbers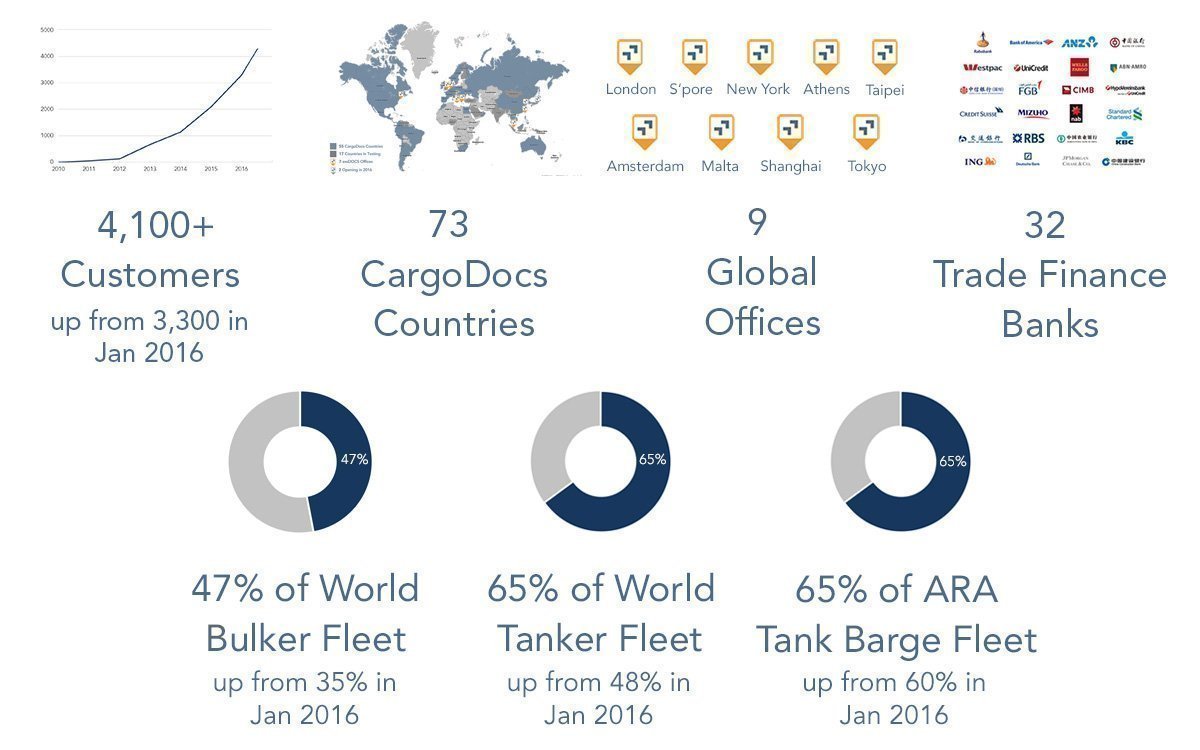 Share this article: